4D SOLUTION PROVIDED FOR 22 BISHOPSGATE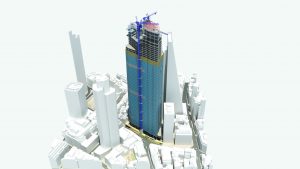 When Oakwood was called in by contractors Multiplex to help provide a solution for the UK's second tallest building, the team was able to ensure the final stages of works could be completed on schedule and in time for a successful topping out ceremony at 22 Bishopsgate, London.
The team at Oakwood were contacted by Multiplex following work on previous projects, including St Georges Tower, One Nine Elms and Marble Arch Place, and together worked on the crane strategy for 22 Bishopsgate. Oakwood's 4D modelling helped to demonstrate, visualise and improve the strategy and provided efficiencies to help ensure Multiplex could achieve the desired 278 m design.
The 62 storey tower will provide 1.275 sq m of workspace, accommodating 12,000 people and up to 100 companies. It aims to respond to a new way of working by including dedicated community spaces where businesses can gather and network. It will also house facilities such as a fresh food market, innovation hub and gym, as well as the London's highest free public viewing gallery.
Now complete, 22 Bishopsgate will be another iconic addition to the London skyline and one which Oakwood is proud to have been involved with.