OAKWOOD PROVIDES COMPETITIVE EDGE FOR WINNING TENDER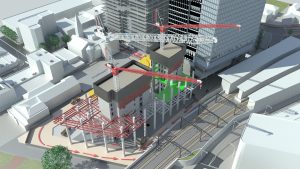 Oakwood's work with contractor Built was instrumental in the successful bid to secure the $500m tender for a 55-storey building, known as '6&8 Parramatta Square'. Parramatta Square, located in Sydney's West, is one of Australia's biggest urban renewal projects.
Working in a Joint Venture with leading Australian Construction Management company McGregor, we produced a 4D model which was used by Built to communicate their construction methodology and programme to the client. This 4D model played an important role in helping Built win the tender on what is the largest Commercial Office building currently being constructed in Australia.
Together with McGregor we will be providing digital support to Built during construction, helping to deliver programme certainty on the project. Our extensive BIM experience in 3D & 4D modelling, VR and lifecycle tracking of materials, will help improve efficiencies and reduce waste, providing Built with visual method statements to assure productivity is maximised.
Brett Mason, Managing Director of Built commented: "Oakwood and McGregor have helped demonstrate the wide-ranging benefits of BIM. We are investing in these skills to improve efficiency and to ensure there are no delays on site, and we are committed to making sure we use this type of technology on all our future projects. We have established a strong relationship with Oakwood and McGregor and are looking forward to working with them on this latest scheme at Parramatta."
Oakwood and McGregor are already working with Built on buildings 3 and 4 at Parramatta Square, which together with tower 6&8, is valued at $1.2bn worth of construction works.
Our involvement with the latest tranche of work will assure that the lifecycle of all three projects can be carefully managed. Rather than looking at each in isolation we can see how they interact with each other and assure maximum efficiencies on the wider site.
Located to the west of Sydney, the Parramatta Square scheme, which is being developed by the Walker Corporation, is set to rival the city's CBD. On completion, the project as a whole will provide 290,000 sq m of office space across three buildings.