OAKWOOD SHORTLISTED FOR TWO PRESTIGIOUS PROP TECH AWARDS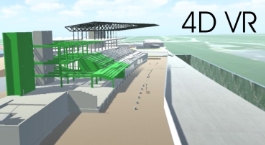 Oakwood is celebrating being shortlisted in the Construction Award category at the 2019 Estates Gazette Tech Awards. The news follows confirmation that we are also on the shortlist for a North West Regional Construction Award (Digital Construction Award Category).
We have been recognised in both prestigious award shortlists for our work on The Curragh Racecourse in Ireland. By creating a 4D VR environment we enabled our client to move through their entire construction programme in an immersive virtual construction site; seeing how work would develop before it actually occurred on site.
A digital strategy
Considered to be one of the best racetracks in the world, The Curragh has recently undergone extensive redevelopment, including the construction of a new four storey grandstand, complete with a visually dynamic cantilevering roof structure. Oakwood was tasked by Sisk Construction to provide a digital strategy for the delivery of the new 10,500 sqm building and all associated services, infrastructure, ancillary facilities and surrounding environments.
The Curragh racecourse is a site rich in history, the preservation of which was a core consideration and critically the course needed to remain open throughout the entirety of the construction project.
Oakwood developed and delivered a fully interactive 4D Virtual Reality (VR) construction sequence which enabled Sisk to effectively manage the interfaces between the racecourse and the construction works
A first for the industry
We believe this to be the first project of its kind, which is why we entered it into both awards. The technology gives the contractor true insight into their project and a bespoke functionality. Any decision can only be made with the available information, therefore the 4D VR enables early and effective decision making for the benefit of the project.
This technology is a step change in H&S and risk management, amalgamating BIM models and contract documents in an immersive environment and giving users the power to examine their project like never before and make a real difference to site safety.
Due to the success of this project, Sisk have now included 4D VR in their future strategy for all sites in Ireland and the CCS have put the experience at the Curragh Racecourse to their 'Best Practice Hub' as an innovation activity. The scheme has also been successful in the 2019 ICE Awards in Ireland, where contractor, John Sisk & Son, entered Oakwood's work and won the award for the Construction Innovation category.